Epoxy Flooring Services In Columbus
Strong, Quality Floors That Last.
Choose the Experienced Team
At Premier Asphalt & Concrete in Columbus, our team has years of experience serving Columbus and the surrounding areas with quality paving and epoxy flooring services. More and more businesses are choosing to implement epoxy floorings due to its strength, quality, and smooth properties. When it's time for new floors in your commercial building or your home, you can trust our team to get the job done right. Contact our team at Premier Asphalt and Concrete today to learn more about epoxy flooring and get your free estimate!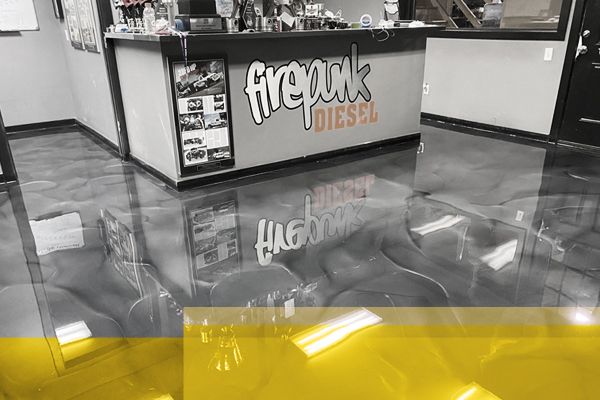 There Are Plenty Of Great Reasons And Benefits To Choosing Epoxy Flooring.
Some Of The Most Notable Benefits That Our Clients See Include:
• Quick and pain-free installation
• High-gloss finishes that dramatically increase the light in your building
• Industry-leading durability and lifespan
• Stain-resistant and easy-to-clean design
• Provides a smooth and beautiful surface for a more appealing space
If you are unsure whether or not epoxy flooring is the right option for your home or business, reach out to us at Premier Asphalt & Concrete in Columbus today! We are happy to answer any questions or concerns you may have.
Why Epoxy Flooring?
There are some pretty serious benefits to having epoxy flooring. We mentioned a few of the main benefits above, but here, we will go into a bit more detail. Epoxy flooring has a unique texture — it feels similar to rubber with a softer, smooth, plastic-like touch. Because of its unique construction and composition, it makes for a very durable and attractive flooring option. Epoxy flooring is water-resistant, stain-resistant, long-lasting, and holds up very well to heavy use. These are all qualities that businesses (and some homeowners) are looking for out of their flooring.
Premier Asphalt & Concrete In Columbus
Businesses often need flooring that can withstand high foot traffic, is flat enough to roll equipment over smoothly, can withstand spills and stains, and looks appealing for customers. With epoxy flooring, you'll get all of this and more. Some businesses already have concrete flooring in place, but they want something that looks more appealing and protects the concrete from wear and tear. Epoxy flooring is the perfect solution since it requires a clean and slightly porous surface to properly adhere to, and that's exactly what concrete is.
At Premier Asphalt & Concrete In Columbus, We Can Help With Your Epoxy Flooring Every Step Of The Way. We Offer Professional Paving Services To Pour You A Sturdy And Reliable Concrete Base Flooring. Then, We Can Help You Add Style, Durability, And Protection To It With Our Epoxy Flooring Services. Reach Out To Our Team Today To Learn More And Get Your Free Estimate!